Elephant Falls ( Thác Voi) is aptly named after a giant rock that is supposed to resemble the head of an elephant. The falls are located in a valley at the bottom of a scenic mountain pass outside of Nam Ban village, about 30 km from Dalat's city center. The falls are impressive because you can get up close and personal to their thunderous flow, which is a delight for all the senses.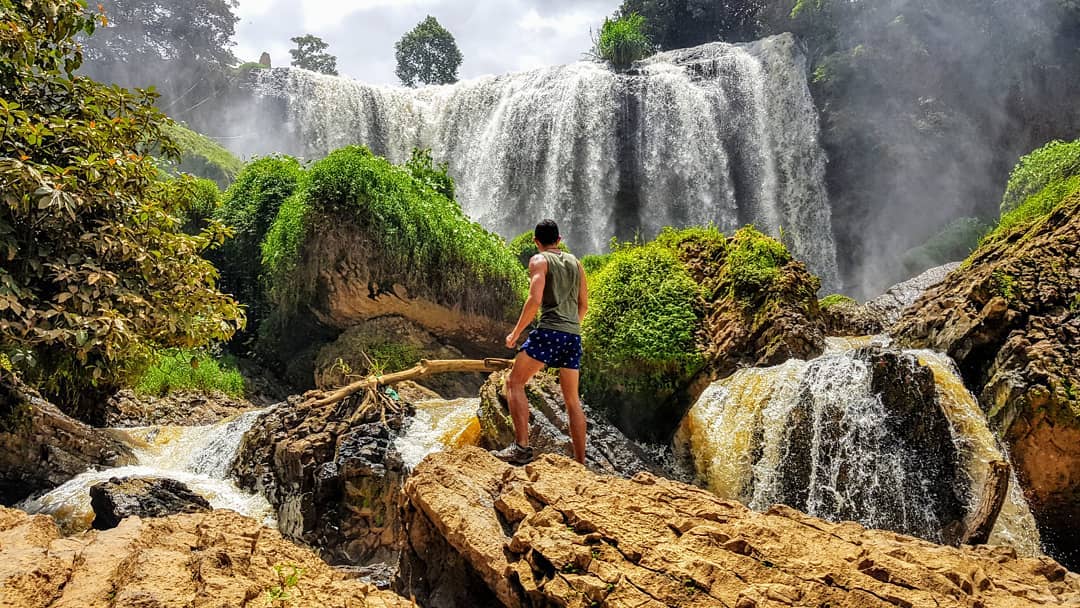 Getting to Elephant falls can be a bit tricky, but its certainly worth it. Visitors must descend a steep. often slippery and uneven path made up of stone steps, which only takes a few minutes. Railings intermittently offer support. Because the falls are a popular destination, the path can become quite trampled and congested, so take caution when climbing. Make sure to bring a decent pair of hiking shoes for good traction.
If you want to get more adventurous, there's a small cave you. Prepare to be splashed from misty waters surging from the cascades, which is all part of the fun in getting there. You may not get wet in the dry season, but pack that poncho during the wet season. There are some moss-covered boulders lying midstream at the bottom of the falls, that, when climbed on top of, offer the perfect shot of the raging falls. If you don't mind getting wet, you can climb and stand on one of the massive boulders in the stream and admire the sheer force of the current from the vantage point.
How to get there?
Getting it is easy: you just follow Hoang Van Thu street (Hoàng Văn Thụ street) from the center of Dalat City westwards and when you reach the signpost for Tà Nung village, turn left. After a few kilometers, you see the sign of Elephant Falls to the right. It's right before a bridge.
Don't hesitate to pack your luggage, come and discover the amazing land. For more information please visit our family website:
For Vietnam online visa Govietnamvisa.com
For Vietnam local tours: Govietnamtourist.com
For exploring more parts of Vietnam:
http://www.vietnam-online.org/